If you have upgraded from SharePoint 2010 to 2013, and find that the Content Type titles look a bit odd for Reporting Services content types, you may want to change those to something more familiar.  There is a relatively simple fix.
For example, they appear as:
$Resources:ReportServerContentTypeGroup;

   $Resources:DataSourceContentTypeName;
Document
Home
   $Resources:ReportBuilderContentTypeName;
Document
Home
   $Resources:ReportBuilderModelName;
Document
Home
Correct display:
Report Server Content Types

   Report Builder Model
Document
Home
   Report Builder Report
Document
Home
   Report Data Source
Document
Home
So for example, when to create a new report library, and you start adding content types for your reports, you may see something like this:
To fix this, go to "Site Actions", "Site Settings." Click on "Site Content Types."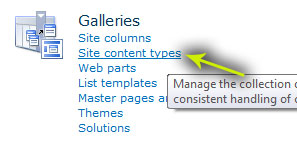 Click on the content type you need to update, and then click on "Name, description, and group"
Change the title text for the three content types, and give it a group.  For instance:
Report Data Source
Report Builder Model
Report Builder Report
Group: Reporting Services
Once you have done that, go back into your library, and delete out the previous content types, and re-add them.
You should then get the correct names displayed when you need to add a new reporting file.